Get Involved
Sisterhood
The women of Temple Israel Sisterhood are dedicated to the promotion of Conservative Judaism in the home, synagogue, and community.  Our fundraising efforts help sponsor family holiday celebrations, and Hebrew School programs. We maintain the Synagogue's Judaica gift shop, and kosher kitchen;  providing the congregation with a weekly Shabbat kiddush luncheon.  Each year we honor a Woman of Distinction and celebrate her with an all women-led Shabbat service.  Any woman who shares our ideals and interests is invited to join. Sisterhood President: Marian Beckhorn
Men's Club

The Men's Club has many events scheduled throughout the year designed to help the community, bring people together and to have fun!  Join us for Sukkah building, hamentashen baking, and latke making. Check the calendar for more events scheduled throughout the year.
Men's Club President: Steven Dershowitz
Mitzvah Committee
Members of this committee have volunteered their time to visit the sick and the homebound of our Congregation, as well as recent returnees from hospitals. It also encompasses a Welcome Committee for new members through phone calls and/or a personal visit. The committee also deliveries holiday packages at Hannukah, Rosh Hashana, and Purim.
Mitzvah Committee Co-chairs: Paulette Okun & Geordee Grable-Pollock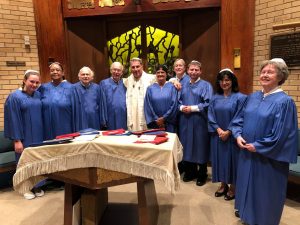 Choir
The choir of Temple Israel, under the direction of  Cantor Aronzon, is open to all interested members of the Congregation.
Its major function is to add to the beauty of our High Holy Days services.
Other Volunteer Opportunities
Temple Israel prides itself on being a participatory community. We are always looking for volunteers who wish to energize our congregation and enhance our feeling of community. If you are interested in finding out more about a particular committee, please contact the synagogue office.
Education: This committee meets monthly throughout the year. Our responsibilities are to assist our clergy and staff with adult education decisions and plan special educational programs.
House/Facilities: The facilities committee is responsible for keeping the physical synagogue in top-notch condition and secure by overseeing services provided by a contractor, e.g. cleaning, security, lighting, AC, and heating and our maintenance staff. The committee meets on an as-needed basis. Facilities Chair: Robert Pollack / Security Chair: David Hollander
Programming: This committee is responsible for the planning and implementation of Temple Israel activities and events. Programming Chair: Barbara Dershowitz
Ritual: This committee meets monthly throughout the year to coordinate all synagogue services. This includes times, content, organization, and leadership. Members of the committee also discuss ritual topics such as Kashrut, religious practice, and Bar/Bat Mitzvah requirements. The committee reviews proposals, discuss alternatives and makes recommendations to the Rabbi, Cantor, and Board of Directors. Ritual Chair: Louis Nivert